INSPIRING EAGLES
KBOCC invites graduating high school seniors and adults learners to participate in a FREE academic program for Inspiring Eagles. There are two convenient offerings scheduled (virtual or in-person).

While the program is targeted for recent high school graduates, adult students who are new to the college and who have not completed college-level English or mathematics at any college are eligible to enroll. Academic Catch-Up programs may be particularly beneficial to Reconnect students.

The program will assist you in preparing for college in the fall but you are not required to enroll in college in order to participate.
PROGRAM HIGHLIGHTS
English, math, career exploration and so much more! Expand your current skills to prepare you for the future.
TWO FLEXIBLE OFFERINGS
Program is available in person or online via Zoom! Participants can choose which offering is most convenient for them.
BENEFITS TO YOU
• Transportation support (gas cards for on-campus participants)
• Free lunch on campus each day of the program (meal stipend for virtual participants)
• Free materials, supplies and laptop
• Free student support workshops
• Scholarship to attend KBOCC in the Spring 2024 semester
• Gift card incentive provided after completion of the program (must attend all sessions and complete the required coursework)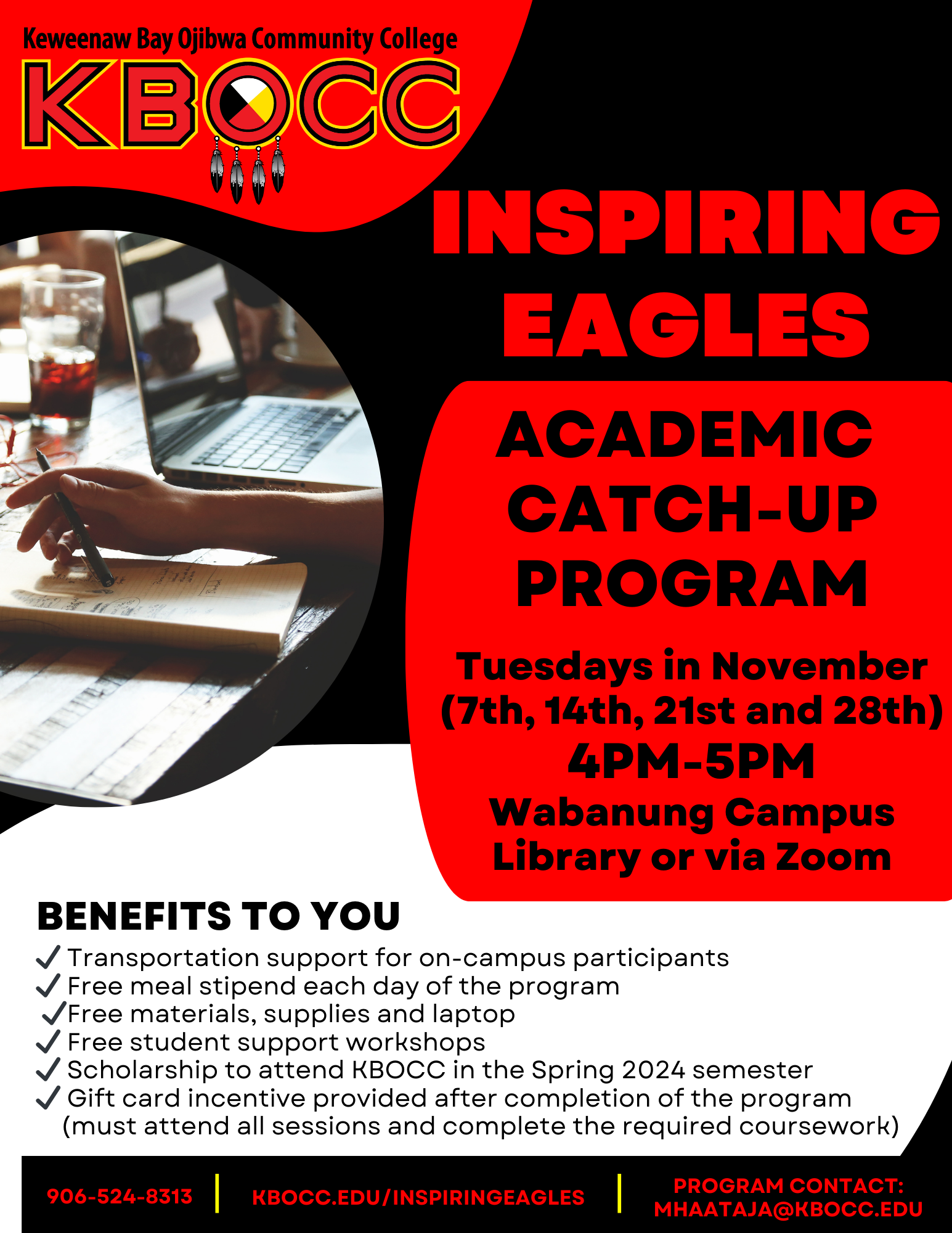 Program Contact: Megan Haataja mhaataja@kbocc.edu
Wabanung Campus Room 313 – (906) 524-8313
GET STARTED TODAY – REGISTER NOW!

The Academic Catch-Up Program (Sec. 216(a)) is administered by the Michigan Community College Association and created to support community colleges' efforts to combat learning loss among recent high school graduates who experienced interruptions to in-person learning due to the COVID-19 pandemic.