RGM Fitness Center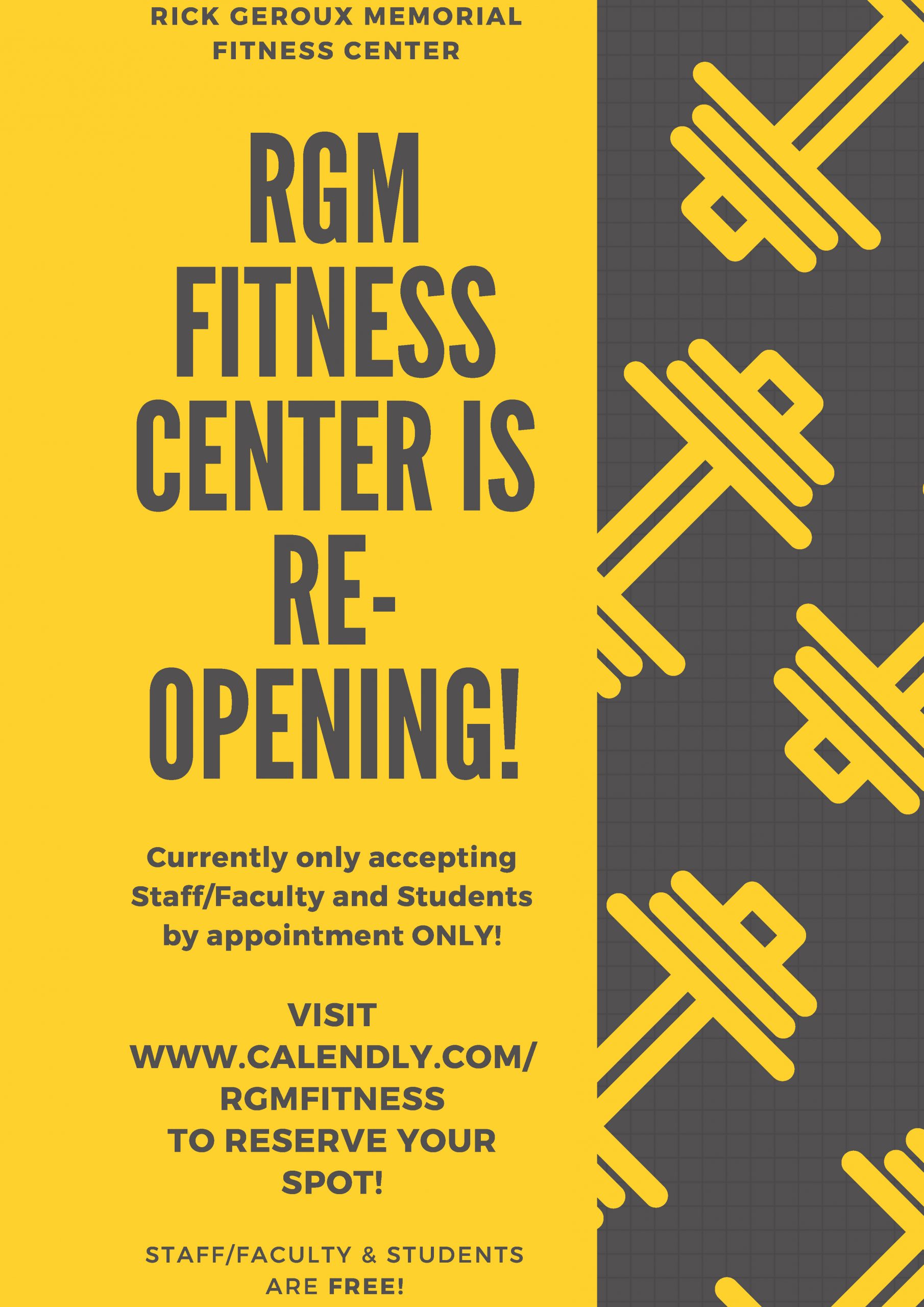 Hello everyone!I'm excited to announce that the RGM Fitness center here at KBOCC will be opening to Staff/Faculty AND Students beginning tomorrow, January 28 by appointment ONLY. There will be a few new changes as to how the gym will work with our soft opening plan. These changes include:
A maximum of 2 people in the gym at one time.
Masks are required and social distancing is encouraged
Members must reserve an appointment via the Calendly link. Linked here: www.calendly.com/rgmfitness
Each member must fill out a new membership form. Linked here: https://forms.office.com/Pages/ResponsePage.aspx…
There will be a check in station where you will record your name, date, time in, and temperature.
Gym sessions will be 45 minutes long, beginning at the top of the hour.
Please remember to sanitize and put equipment away when you are done. Vanessa will also be doing a thorough cleaning before and after each gym session!
STUDENTS: To enter the gym, we will be using the BACK door by the steep steps and I will be there to let you in at your scheduled time. You can park in the back parking lot by the gym. However, please be aware that if you choose to park in the back parking lot, our cameras back there are temporarily down. OR You always have the option to park in the front parking lot by the student services area where the cameras are currently working, but you will have to walk to the back door (steep stair entrance) and not the front entrance by student services.
Staff/Faculty will have more flexibility when using the gym. (Access via gym code when there is not a gym attendant present) But please still remember to sign in and sanitize equipment! If you are a staff/faculty member and would like access to the code, please fill out the new membership form and send me an e-mail at vleclaire@kbocc.edu so I can give you the new code!
Staff/Faculty are FREE!
Students are FREE for each semester enrolled at KBOCC!
**Tanning bed will be available for use soon!
​​​​If you have any questions in regard to the gym, please don't hesitate to email vleclaire@kbocc.edu